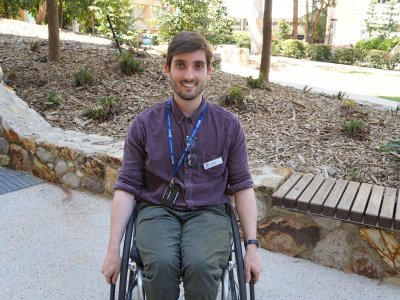 A wheelchair-bound graduate now working in youth justice was a source of inspiration at the 2015 University of Queensland Social Work Professional Development Day.
Caleb Bull spoke openly with final-year School of Nursing, Midwifery and Social Work students about his experiences transitioning from university into his specialist field.
"Being a person with a disability, I have received a lot of support from people who have been there for me and helped me achieve my goals," Mr Bull said.
"I realise that there are many other people less fortunate than me, particularly teenagers who are in a very vulnerable time in their lives.
"I decided to pursue a career in social work as I want to support other people who may be marginalised, or living in adverse circumstances.
"I want to use my training and experience as a social worker to help other people recognise their goals to reach their full potential despite their circumstances."
Aside from Caleb, students also heard from representatives of Queensland Health, Mercy Community Services, Mater Hospital, Department of Communities, Child Safety and Disability Services, Working Against Violence Support Services and Micah Projects.
The annual professional development workshop provided students with the tools necessary to step confidently into their field after university.
The day offered practical advice about interviewing and information on employment possibilities in the social work sector.
Caleb was one past student who benefited from a similar workshop before stepping into his ideal job.
"The people I work with are truly motivated to work with young people to reduce the risk of them re-offending," says Caleb.
"I have learnt a lot from my colleagues and receive excellent support and supervision from my team leader and manager.
"Before that, studying social work at UQ gave me an understanding of the broader social issues that impact people on an individual level.
"Professional development days like this gave me a thorough understanding of available employment opportunities and a range of options for entering the workforce."
Find out more about learning pathways at the School of Nursing, Midwifery and Social Work.