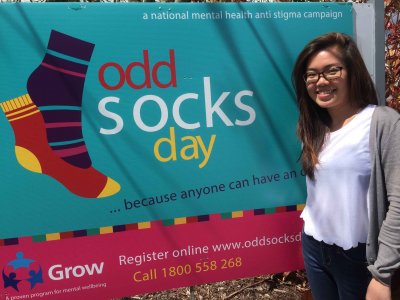 Meeting Governor-General Peter Cosgrove was not among the initial expectations of Stella Law's work placement with Grow Queensland.
However the University of Queensland student will do just that as she furthers her Masters of Social Work Studies by participating in Mental Health Week in October.
"The Holland Park centre of Grow will be having an open day on October 2 to reduce stigma towards mental health and encourage people to think differently," Stella said.
"It's exciting to think the Governor-General will be there to support us on such an occasion.
"It sends a nice message about the importance of the issue and shows it's a national movement."
In her fourth year at UQ, Stella has already completed a Bachelor of Psychological Science, and is now directing her energies towards the social work sphere.
The 23-year-old from Kelvin Grove made Brisbane her home after moving from Hong Kong to follow in the footsteps of her sister.
"Yes she did her undergraduate at UQ and recommended it," Stella said.
"I've always liked helping others basically and have an interest in mental health, so my studies and this placement with Grow ensure I get involved more in society and actually make a difference.
"I've got just over 12 months of my masters to go and I'd like to stay in Australia, provided I can successfully move into the workforce."
Stella said the placement at Grow had provided opportunities to expand her academic knowledge while also gaining experience applying that to events, community development, administrative tasks and supporting colleagues.
Grow's open day on October 2 coincides with Odd Socks Day, a nationwide event that take a light-hearted approach to reminding people that "anyone can have an odd day".
Grow's national support office is found at 1018 Logan Road, Holland Park or can be reached on (07) 3397 7629 or national@grow.org.au
Media: Grow Queensland - Elizabeth Kerr, beth.kerr@grow.org.au , +61 7 3394 4344; UQ Communications – Robert Burgin, r.burgin@uq.edu.au, +61 7 3346 3035, + 61 0448 410 364.