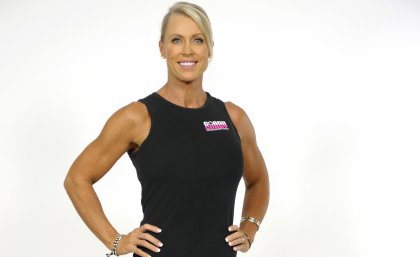 Triple Olympian Lisa Curry will be the key speaker — addressing ageing and staying healthy —at a non-profit event organised by and featuring research from University of Queensland health experts.
The 53-year-old mother of three, who underwent heart surgery in 2008, will be a guest at the Positive Ageing Journey Event, an expo co-founded by the School of Nursing, Midwifery and Social Work's Dr Anthony Tuckett.
"It's not the sort of event where we will dwell on disability or hold sessions on incontinence," Dr Tuckett said.
"It will be a positive atmosphere where we address growing older in an engaging way and provide advice about making the most of your life."
Ms Curry is a fitting choice to lead that message, as an elite athlete who enjoyed a sporting career for 30 years while juggling family and business commitments.
Not only was she a swimmer at the Moscow, Los Angeles and Barcelona Olympics, but she also won four World Outrigger Canoe Championships and the 66km Hawaiian Molokai solo race.
Despite her exceptional fitness, she was fitted with a defibrillator at 46 after reporting an irregular heartbeat as the result of a virus, but has stayed busy as a personal trainer, health advocate and author.
"We will be having lots of conversations around the topic of staying active," Dr Tuckett said.
"People are beginning to wake up to the fact that an ageing population is not simply an issue for down the track.
"It's here and now, and there are proactive and effective strategies already being used in places like Europe that we can adapt."
Aside from physical activity, other topics expected to be popular at the Positive Ageing Journey Event are interpersonal relationships, maintaining a healthy mind, and technology.
Discussions about travel, gardening, cooking and nutrition are also on the agenda.
The Positive Ageing Journey Event has been running since 2009 with the backing of the Australian Research Council (ARC) and the National Health and Medical Research Council (NHMRC).
This year's expo will be held on Monday 16 May at Easts League Club at Coorparoo, with morning tea and lunch included for the ticket price of $20.
Media: Dr Anthony Tuckett a.tuckett@uq.ed.u.au , +61 7 3346 6787; Robert Burgin, UQ Communications, r.burgin@uq.edu.au, +61 7 3346 3035, +61 448 410 364.