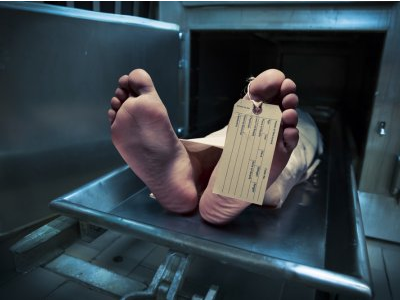 As the nation paused this week to remember the Port Arthur Massacre and ANZAC Day, a former senior coronial counsellor has spoken of the toll involved in identifying and handling the dead.
University of Queensland School of Nursing, Midwifery and Social Work expert Dr John Draytonsaid there were conflicting emotions for both the bereaved and social workers who broke the news.
"A dead body can have a multitude of various meanings to the bereaved and this presents a complex challenge for social workers trying to work through grief and loss," Dr Drayton said.
"Within the bereaved person there is often a further paradox where they understand the body can feel no more pain, but they cannot deal with any existing or further interference to the body.
"For the bereaved, that body retains the same personality it was associated with during its lifetime."
Dr Drayton addressed many of the problematic implications of dealing with corpses in a 2013 publicationBodies in Life/Bodies in Death, which focused specifically on coronial autopsies.
He has been involved with social work in forensic pathology since 1995 and worked for the Queensland Health Forensic and Scientific Services directly prior to joining UQ.
Dr Drayton said that where loss and grief intersect with practical implications, there is the potential to further disrupt the resolution of feelings for those left behind.
"In the case of tragedies occurring overseas, we have seen a desire from family members to return every piece of the dead and for the bodies to be reunited as a whole," Dr Drayton said.
"What then happens if a few square inches of flesh are found at a later date?
"Where does the government draw the line at what it is prepared to use public funds for in terms of human recovery?"
Dr Drayton has also assessed whether a body should be witnessed for personal closure, or whether in some cases this is non-advisable.
He said that social workers advising in these situations had to be extremely attuned to their skills of assessment and communication.
"On one hand there is a requirement to be very up-front with the bereaved, but at the same time you do not wish to further traumatise them," he said.
"What state is advisable for somebody to see a corpse in and what isn't? That's very subjective.
"Many people do not realise that after and before an autopsy, it is the social worker who will typically contact the family and discuss, not the police."
Bodies in Life/Bodies in Death was published in the British Journal of Social Work.
Media: Dr John Drayton, j.drayton1@uq.edu.au, +61 7 3365 2093; UQ Communications Robert Burgin, r.burgin@uq.edu.au, +617 3346 3035, +61 0448 410 364.